Peabody Engineering stocks a full range of pultruded fiberglass products ranging from molded and pultruded grating to Pultruded structural shapes (channel and angle) to handrails, platforms and access ladders. Fiberglass is an excellent choice for applications which require a product that is non-conductive (thermal and electrical), corrosion resistant, non-magnetic, RF and electromagnetic transparency, lightweight, high-strength and low maintenance. For detailed listings of our product offering, click on the items below to expand the text for information.



Suggested Applications for FRP Structures
Service Platforms
Agricultural Applications
Raised Floor Systems
Loading Platforms
Boat Docks
Ladder and Cage Systems
Water/Wastewater Treatment Plants
Chemical Plants
All-fiberglass Structures and Enclosures
Architectural Applications
Pollution Control Products
Walkways
Equipment/Facilities
Tank Platforms
Roofs and Covers
Areas Near Salt Water

Pultruded Fiberglass Structural Shapes
Pultrusion is a process of manufacturing that combines fiberglass and resin under controlled heat and pressure to produce consistent, high quality profiles with a surface veil to protect against glass fibers from penetrating the resin surface and to increase the corrosion and UV resistance. We offer more than 100 standard shapes and 3 different materials to choose from to match your application.



Pultruded and Molded Fiberglass Grating
High quality, well designed, pultruded grating, which resembles metal bar grating, is stronger, lighter, equally corrosion resistant and in most cases, less expensive than traditional molded grating. Additionally, pultruded grating is available in larger panel sizes and can be custom built to your requirements for large jobs. In most cases, pultruded grating offers the best product at the lowest price for your grating applications.

Molded Grating has equal strength in both directions and is made with square or rectangular grid patterns. Since it was developed many years before the advent of pultrusion technology, it is widely used and performs well in many applications.



Fiberglass Access Ladders
Pultruded fiberglass ladders are manufactured precisely to your required dimensions per OSHA standards. Available with or without safety cage, these ladders can be installed in a variety of applications from sumps to tanks, buildings, piers, portable equipment, etc. Available in standard and NSF-61 rated materials for food and Potable water contact.



Fiberglass Handrail and Platform Systems
Our modular handrail systems, available in 2" square or 2" round configurations, is available in kit form for easy on-site assembly by your team. We can also assist you with your project from concept through design and fabricate a ready to install system for you. Use our Grating and structural shapes above to design a complete platform system with stairs and handrail. Our fiberglass handrail systems are particularly well-suited to corrosive and non-conductive applications.



Key Points
Pultruded fiberglass is a combination of fiber and thermosetting polyester or vinylester resins, providing an incredibly strong, dimensionally stable, and extremely durable structural member.
Peabody has the resources to design and fabricate an entire walkway or platform system for your application. Fiberglas is a light-weight, cost-effective, and chemically compatible solution from salt water to acids, Peabody can provide a safe and practical work environment for you.
UV resistance and a mold-in finish provide years of maintenance free life.
Low electrical conductivity, electromagnetic and RF Transparency
High Strength: Compressive and Tensile Stress of 30,000 PSI!
Corrosion Resistant

Learn more about our custom engineering solutions.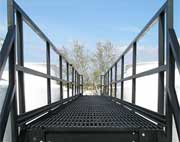 Click to See More Photos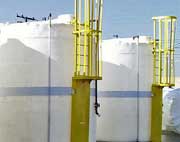 Click to See More Photos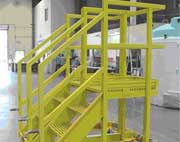 Click to See More Photos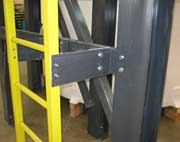 Click to See More Photos