Peabody Engineering has a full service design engineering department that can assist you in developing and manufacturing a custom rotationally molded product to meet your specific requirements. Rotational molding is a highly versatile manufacturing option that allows for unlimited design possibilities with the added benefit of low production costs.

What is Rotational Molding?
Rotational molding is a three-stage, no-pressure, plastic molding process. During the heating stage, the mold slowly rotates in two planes (bi-axial rotation). Heat transfer causes the plastic charge inside the mold to melt and uniformly coat the interior of the mold. During the second stage, the mold moves to the cooling station, where it is cooled by air and/or water spray. In the final load/unload stage, the part is removed from the mold and a new charge of material is loaded into the mold.



Flexibility of Design
Rotationally molded products represent a wide range of materials, performance characteristics, colors, surface textures and finishes. The products can be custom-designed to meet precise market requirements more economically than by conventional injection or blow molding. This unique molding process allows Peabody Engineering the ability to produce items ranging from small machine components and O.E.M. products to large chemical and water tanks that will hold up to 15,000 gallons. A variety of materials can be used like polyethylene (HDPE), polypropylene (PPL), polyvinylidene fluoride (PVDF) and others to provide specific performance characteristics to the products. Close tolerances and tight radii can also be made to afford interchangeable and interlocking components. Let Peabody help you to design cost-effective design enhancements to your products and help your business grow.

Design Advantages
Rotational molding offers design advantages over other molding processes. With proper design, parts that are assembled from several pieces can be molded as one part, eliminating expensive fabrication costs.
The process also has a number of inherent design strengths, such as consistent wall thickness and strong outside corners that are virtually stress free. If additional strength is required, reinforcing ribs can be designed into the part.

Rotational molding delivers the product the designer envisions. Designers can select the best material for their application, including materials that meet FDA requirements. Additives to help make the part weather resistant, flame retardant, or static free can be specified.

Inserts, threads, handles, minor undercuts, flat surfaces that eliminate draft angles or fine surface detail can all be part of the design. Designers also have the option of multi-wall molding that can be either hollow or foam filled. Custom graphics or company logos can be molded right into the product for permanent branding and product identification.

Cost Advantages
When cost is a factor, rotational molding has the advantage over other types of processes as well. In comparison to injection and blow molding, rotational molding can easily produce large and small parts in a cost effective manner. Tooling is less expensive because there's no internal core to manufacture. Because of this, changes can be easily made to an existing mold at a relatively low cost.

Production costs for product conversions are reduced because lightweight plastics replace heavier, often more costly materials, which makes rotational molding as cost effective for one-of-a-kind prototypes as it is for large production runs.

Do you have a requirement for a rotationally molded product or custom tank? Call Elden Tuell at 877-734-3759 x114 or email Elden@etanks.com for design assistance.
Rotational Molding Process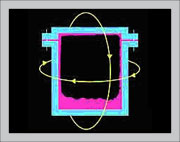 Bi-Axial Rotation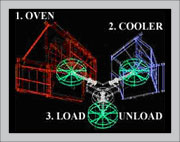 3-Stage Process
Example Products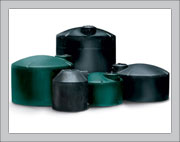 Rotationally Molded Plastic Tanks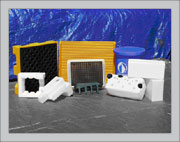 Custom Molded Products