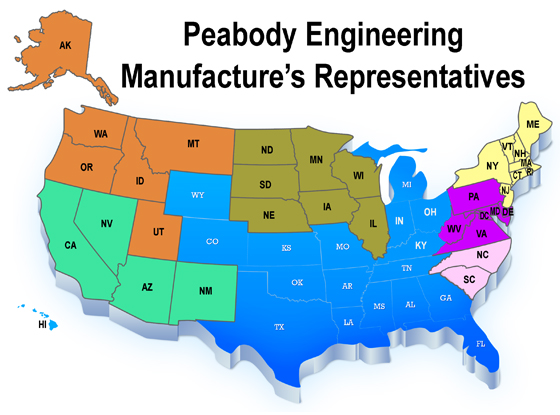 Canada Representation
Vissers Sales
Contact:
Greg Vissers
Call: (905) 841-4073
Representing: All Of Canada (Canada not shown on map)
Canadian distributor and representative for liquid handling equipment related to the Chemical/Industrial market. We specialize in all types of pumps, mixers, valves, process controls, level and flow controls. We represent the leading manufacturers in their fields.
---
United States Representation

Don Shaw Associates, Inc
Contact:
David Ruff
Call: (585) 281-5205
States Represented: CT, MA, ME, NH, NJ, NY, RI, VT

Pacific NW Pump & Process, Inc.
Contact:
Scott Bush
Call: (360) 954-5049
States Represented: AK, ID, MT, OR, UT, WA
For the best in pump and process equipment.

Pilcher Associates Inc.
Contact:
Mike Pilcher
Call: (315) 373-6671
States Represented: NC, SC
Manufacturer's Representative for the industrial commercial and water quality industries.

Quantrol Incorporated
Contact:
John Mohler
Call: (630) 355-3330
States Represented: IA, IL, ND, NE, MN, SD, WI
Our mission is to sell products into markets dealing with water or process fluid quality control. The products include chemical feed, storage and mixing equipment, systems controls, test and monitoring equipment, and any accessories that might assist the customer in applying the equipment we provide.

Water America, LLC
Contact:
Dave Simmons
Call: (941) 286-5808
States Represented: AZ, CA, NM, NV
Water America, LLC is a manufacturer's agent firm specializing in representing fine OEM products for the water industry.

Watermark Corporation
Contact:
Peter Auchincloss
Call: (410) 448-9900
States Represented: DC, DE, MD, PA, VA, WV
Watermark Corporation brings over 20 years of experience in the water quality improvement industry. Watermark's solid relationships with leading equipment manufacturers assures you of receiving unsurpassed service in the mid Atlantic region.

Peabody Engineering
Contact:
Sales@4Peabody.com
Call: (951) 734-7711
States Represented: AL - AR - CO - FL - GA - HI - IN - KS - KY - LA - MI - MS - MO - OH - OK - TN - TX - WY