Peabody Engineering's line of Open Top Cone Bottom tanks are a perfect solution for process, chemical, manufacturing and agricultural applications where mixing, settling or complete drainage are a concern.

Cone Bottom Open Top Tanks

(Shop for High Slope or Regular Slope)
Our line of cone bottom open top tanks are available in a wide range of sizes, allowing you to choose the most appropriate tank for your application. Our open top tanks are available with a choice of three different cover options - a standard "drop on" cover, a bolted and gasketed cover or a hinged style cover. Sizes range from 5 gallons to 500 gallons.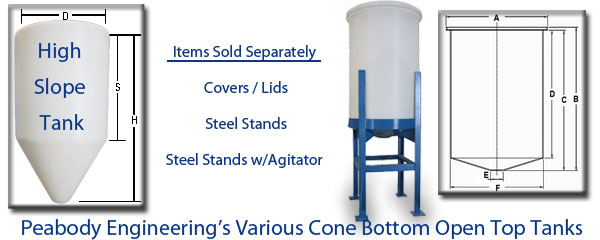 With multiple shipping points across the Continental United States, it minimizes the freight expense in getting your tanks delivered to where you need them.


Peabody Engineering's polyethylene (poly) cone bottom storage tanks are rotationally molded, which produces a durable, one-piece, seamless tank. Unlike cross-linked polyethylene (XLPE), our High Density Linear Polyethylene (HDLPE) tanks are molded from 100% virgin FDA approved materials and will not impart any scent or impurity into your chemical. Our tanks handle a complete range of chemicals for products from below 1.0 to above 12.0 on the pH scale. All of our tanks are UV stabilized and will not breakdown under harsh outdoor weather conditions. Since they are 100% plastic, they will never rust, chip, peel, or corrode and are virtually maintenance free. Our standard tanks are translucent Natural (white) in color and the liquid level can be seen through the tank wall. Molded in calibration in gallons is standard for easy reference of liquid level. All of our polyethylene tanks have been manufactured according to strict quality control standards. Our HDLPE tanks are not recommended for the storage of fuels, chlorinated hydrocarbons, some polymers and surfactants and some concentrated acids. If you are unsure, check with Peabody and your chemical supplier for recommendations.

Peabody Engineering's cone bottom tanks are available with a wide range of accessories, including stands, mixers, pumps and more, affording you the luxury to choose a complete system to meet your application. We can assist you with designing a tank system for your process requirements including welded nozzles, seismic and wind restraint systems, level control, agitation, heating and insulation and other engineered enhancements. Contact our helpful and friendly application specialists to assist you in designing a tank that is right for you.

Peabody Engineering's tanks carry a standard warranty against defects in materials and workmanship.
Prices subject to change without notice.
For assistance in ordering, call our customer service department at (877) 734-3759.